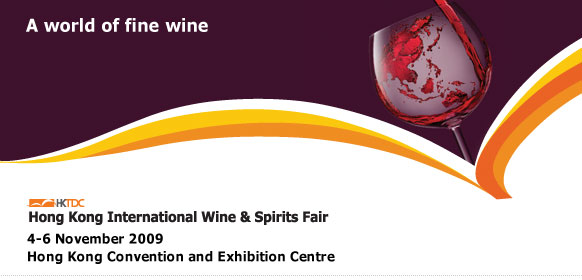 Hong Kong ˇV your gateway to tap the Asia and Chinese mainland market
The wine market in Asia is growing with increasing affluence. It is estimated that the wine consumption in Asia will be doubled and increase to US$27 billion by 2017. The Chinese mainland and HK, currently constituting 60% of Asiaˇ¦s wine consumption, will become the worldˇ¦s eighth largest market.

Hong Kong is set to become a wine trading and distribution centre of Asia following the removal of duties on wine by Feb 2008, making Hong Kong the only major economy to have no wine duties, VAT and sales tax. Hong Kong also plays a neutral role among many other countries and regions as it has no wine production. What is more, Hong Kong is a trendsetter for Mainland, over 28 million tourists visited Hong Kong last year, majority were from Asia and Chinese mainland. The mainland consumers, in particular the 20 million middle-class population, have increasing demand for quality products and brand names, especially for wines.



First Wine Fair achieves great success
Hong Kong Trade Development Council (HKTDC) inaugurated the Hong Kong International Wine Fair by Aug 2008 which brought 240 exhibitors from 25 countries and regions into contact with 8,758 trade visitors from 55 countries and regions, and 10,096 public visitors. Over 90% of the fair participants were satisfied and would return next year.
Click to view the 2008 Fair highlights
HKIWSF - a platform to promote wine culture and provide business opportunities
The Hong Kong International Wine and Spirits Fair (HKIWSF) will be held from 4th to 6th Nov 2009. Collocating with the fair will be the HK International Wine Competition (HKIWSC), which is being developed in conjunction with the IWSC in London, the worldˇ¦s leading wine and spirits competition with 40-year of history. Most esteemed judges from major Asian countries are invited, and the Chinese food and wine pairing awards will be newly introduced. Participants will have an outstanding showcase which can draw wide publicity through media. The award winning wines will be displayed in Wine Gallery at the fair, and can be served at the Gala Dinner. Winners will also receive on-going support to promote their winning status from the HKIWSC. Special discount in participation fee will be offered to exhibitors. For more details, please click here



Friends of Wine
Fine gourmet food which "partner" well with premium wine, beer and spirits will also be welcomed to join the 2009 fair as a kind of ˇ§Friends of Wineˇ¨. The pairing of food and wine can promote the wine culture to the public. There will also be wine-tasting sessions, seminars and industry conferences to educate the attendees about wine. Travel & hotel sponsorship, business matching services and free information counter will be provided to group participations.



Extra savings for Wine Festival exhibitors
The HK Tourism Board (HKTB) is launching a year-around campaign and has named 2009 the year for food and wine in Hong Kong. Backed by the Government, HKTB will cooperate with the Bordeaux Chamber of Commerce and inaugurate a Wine Festival from end Oct to mid Nov 2009. It will be coinciding with the fair period of Wine Fair. The Wine Festival will promote the wine appreciation culture in Hong Kong from Oct 2009 to the Christmas to the New Year 2010, and in turn build up the buying sentiment and consumption for wines in the Wine Fair. Wine Fair exhibitors will enjoy a privilege offer if they also join the Wine Festival. For details of the Wine Festival, please contact the Hong Kong Tourism Board at (852) 2807 6543.



HKTDC ˇV a professional trade fair organiser
HKTDC is a statutory body mandated to promote global trade for Hong Kong. We have 40 years of experience in organising trade fairs. HKTDC runs more than 30 exhibitions a year, 7 of them are now the Asia largest. HKTDC has 40 offices worldwide ˇV 11 in Chinese mainland and 5 in other Asian regions. By joining the HKIWSF, you will be connected with the right partners in Asia and Chinese mainland.

HKTDC will encourage more trade buyers to visit our trade fairs. HK$80 million (over US$10 million) has been set aside to launch a Trade Buyer Incentive Programme. Subsidies on airfares and hotel accommodations will be provided to quality and key buyers from the mature market and the emerging markets, including Chinese mainland, Russia, Eastern Europe, the Middle East, North Africa and Southeast Asia.



Act Now to Receive the Early Bird Discount
All applications received on or before 31 May 2009 will be entitled to the Early Bird Discount up to 10%. Act now!

For enquiry, please contact
You may also visit our fair website www.hktdc.com/hkwinefair for more details.