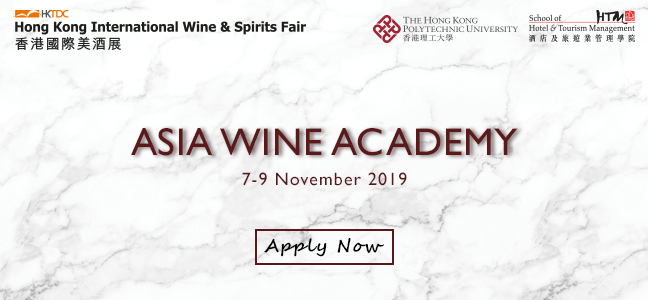 Looking Into Variations of Cabernet
To cater for the growing interest in wine and wine-tasting, the Asia Wine Academy (AWA) will return to the Hong Kong International Wine & Spirits Fair 2019 for the third year. The Academy is offering two intensive wine-quality courses this year, one taught by Master Sommelier Lu Yang, and one by Jeannie Cho Lee, Master of Wine.
| | |
| --- | --- |
| Jeannie Cho Lee is the first Asian Master of Wine (MW) and an award-winning author, editor, wine critic, judge and educator. Jeannie has been a professor at the Hong Kong Polytechnic University (PolyU) where she helped to launch the Master of Science (MSc) in International Wine Management program since 2012. | |

| | |
| --- | --- |
| | Lu Yang is the first, and currently the only, Chinese Master Sommelier in the world, as well as the most influential sommelier in Greater China. He is the Wine Consultant for Shangri-La Hotel Group, and also consults for multiple Black Diamond and Michelin Star restaurants. He is also champions for all major sommelier competitions in China, including the Best Sommelier of Greater China in 2014. |
The courses are co-organised by the Hong Kong Trade Development Council (HKTDC) and the School of Hotel and Tourism Management (SHTM) of The Hong Kong Polytechnic University. They are based on the SHTM's MSc in International Wine Management programme. The courses are pitched at wine enthusiasts and traders at intermediate and advanced levels. They provide in-depth knowledge of Cabernet Sauvignon and its cousins from around the world, and offer an opportunity to taste and compare similar wines from different parts of the world.
CURRICULUM
Course A
Why Cabernet Sauvignon is the King of
Red Wines
Course B
Discovering Cabernet Sauvignon & its Cousins from Around the World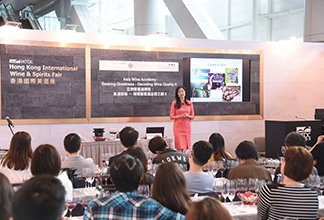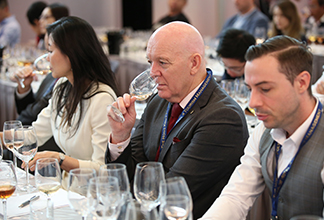 Taught by Professor of Practice, Jeannie Cho Lee, Master of Wine, this 90-minute practical wine course focuses on understanding Cabernet Sauvignon and charting its success and various expressions found around the world. The tasting focuses on understanding wine quality and the Cabernet Sauvignon grape in particular.
Taught by Lu Yang, Master Sommelier, this 90-minute practical wine course focuses on Cabernet Sauvignon's successful cousins, which have spawned interest from both producers and consumers around the world.
SCHEDULE
Course A
DAY 1 - 7 Nov 2019 (THU)
11:30AM – 1PM
Course B
Day 2 - 8 Nov 2019 (FRI)
2:30PM – 4PM
Course A
DAY 3 - 9 Nov 2019 (SAT)
2PM – 3:30PM
Course B
DAY 3 - 9 Nov 2019 (SAT)
11AM – 12:30PM
JOIN NOW
7 – 9 NOVEMBER 2019
***
Grand Tasting Room
Hall 3D Concourse, HKCEC
ASIA WINE ACADEMY
HKTDC • POLYU
MARKET INTEL |
WINE TRENDS | TASTING |
CONSUMER BEHAVIOURS
HIGHLIGHTS
Participants would be able to taste 6-8 types of wine for each course; and up to 14 types of
wine for BOTH Courses A & B, focusing on Cabernet Sauvignon and its cousins.
Wine List
Course A
Wine Name
Vintage
Region
Chateau du Tertre (for Thursday class)
2011
France
Chateau Giscours (for Saturday class)
2010
France
Quintessa
2016
USA
Wynns Coonawarra Estate Black Label Cabernet Sauvignon
2015
Australia
Leeuwin Estate Art Series Cabernet Sauvignon
2015
Western Australia
Fattoria Nittardi Nectar Dei DOC Maremma Toscana
2015
Italy
Kanonkop Cabernet Sauvignon
2014
South Africa
Catena Zapata Nicolas Catena Zapata
2015
Argentina
Don Melchor Cabernet Sauvignon
2016/2017
Chile
Course B
Wine Name
Vintage
Region
Chateau Belgrave
2014
France
Chateau Jean Faure
2014
France
Changyu Noble Dragon Reserve Dry Red (for Friday class)
2016
Mainland China
Chateau Changyu-Castel Cabernet Gernischt (for Saturday class)
2016
Mainland China
Montes Alpha Carmenere
2015
Chile
Chateau Changyu Moser XV Cabernet
Sauvignon Blanc De Noir
2018
Mainland China
Vina Macquis Franco
2010
Chile

| | |
| --- | --- |
| | |
| Chateau du Tertre | Chateau Giscours |

| | |
| --- | --- |
| | |
| Quintessa | Catena Zapata Nicolas Catena Zapata |
PROGRAMME TUITION
Special Offer
Course A / B
HKD350
(original HKD495)
Courses A & B
HKD690
(original HKD880)

EXTRA BENEFITS
Upon completion of the programme, participants would be awarded a certificate endorsed by SHTM and HKTDC. Participants joining the courses will also receive a complimentary Wine & Spirits Fair Admission Ticket for 9 November 2019, as well as a Lucaris Crystal Glass
(redeemable on 9 Nov; valued HKD310 in total).

*HKTDC reserves the right to make changes in the specifications and other information contained in this
document without prior notification.

Terms of Use / 使用條款 Privacy Statement / 私隠政策聲明


© 2019 Hong Kong Trade Development Council. All rights reserved.
38/F, Office Tower, Convention Plaza, 1 Harbour Road, Wan Chai, Hong Kong
Customer Service Line:(852) 1830 668
© 2019 香港貿發局版權所有, 對違反版權者保留一切追索權利。

香港灣仔港灣道1號會展廣場辦公大樓38樓
客戶服務專線:(852) 1830 668