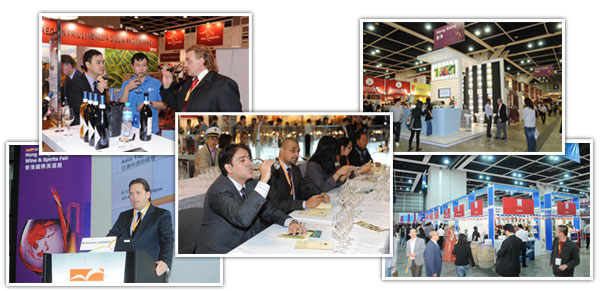 Wave of Enthusiasm
Why Hong Kong?
Interest in wine in Asia is so keen that a professionally managed trade event has been welcomed by both the industry and the public. The HKTDC Hong Kong International Wine & Spirits Fair 2009 saw exhibitor numbers more than double over the inaugural fair, to 525 exhibitors from 34 countries and regions. Almost 12,000 buyers came from 62 countries and regions in 2009, an increase of 36%.

As well as wines, the fair presents spirits, beers and other alcoholic beverages, wine services, wine accessories and equipment, and gourmet food products.

The HKTDC Hong Kong International Wine & Spirits Fair 2010 will be more exciting. Pre-register now to receive FREE admission badge by mail.




Because Hong Kong is ideally placed as a trading and distribution hub and because it has anticipated the market with its pioneering abolition of import duty on wine.
Simpler, faster customs clearance for wine exports from Hong Kong to major Chinese mainland cities is being phased in. Clearance into Shenzhen, for example, which formerly took two to three months, now takes one week or less.
In 2009, Hong Kong imported wines to the value of US$516.7 million, an upsurge of 40.8% over 2008.
Hong Kong's world-class supporting services, from logistics to finance to communication, are well known. It is rapidly emerging as one of the world's most important wine auction centres.
Sparkling 2010 Event
Australia and Hong Kong - Partners in Wine

Cathay Pacific Hong Kong International Wine & Spirit Competition is run in collaboration with the famous London International Wine & Spirit Competition. This year Japanese food matching categories have been added and the competition has been further expanded to include spirits. Entries for the 2010 competition are now open. Enter online at www.asiasbestwinesandspirits.com. Entries must be received no later than 8 October, 2010.
Wine Industry Conference presents top international speakers who address important issues in the industry such as ways to develop markets for wine.
Asia Top Sommelier Summit has found a home at this fair, bringing leading sommeliers from Europe and North America together with their Asian counterparts to further knowledge and skills.
Professional wine accreditations including Court of Master Sommeliers, Certified Specialist of Wine and Certified Wine Educator, underlines Hong Kong's position as the region's wine education centre.
Wine-tasting sessions
The Most Beloved Wine & Spirits voting game
Wine Gallery

Hong Kong's fourth largest supplier of wine, Australia, is the fair's Partner Country for 2010, following the signing of a Memorandum of Understanding by Austrade and HKTDC. Australia fielded the largest contingent of exhibitors in 2009, signalling its confidence in Hong Kong as a premier regional wine hub. Among the many activities of which the Partner Country is the focus are the Vino Syrah/Shiraz Forum, free wine tasting events and a workshop allowing participants to learn more about Australian wine.
Exclusive Travel Incentives for Trade Buyers
The HKTDC offers a variety of incentive programmes for trade buyers to the Fair that involves exclusively discounted hotel rates and airfares. For further information, please contact HKTDC office nearest to you.



Special Airfare
Cathay Pacific Airways, together with sister airline Dragonair, offer you and your travel companions exclusive airfares in all classes. To take advantage of this offer, please click http://events.cathaypacific.com and input the event access code MICE345 to avail of special fares for you.



Visa Application Assistance Service
The Immigration Department of Hong Kong has a list of countries/regions whose citizens require a visa to enter Hong Kong. HKTDC can assist your visa application by issuing an official invitation letter. To check out the list and learn more about the requirements and the assistance service, please visit www.hktdc.com/hkwinefair/visa


Sourcing On the Go -
Tailor-made Exhibition Info On Your Mobile
Smartphone Info Site

With the HKTDC Smartphone Info Site, you can now pre-register for fairs and get your free admission badge anywhere and anytime. All information regarding HKTDC fairs, including event schedule, list of exhibitors, plus practical tips on getting around Hong Kong can be conveniently accessed.



| | | |
| --- | --- | --- |
| Download your HKTDC FAIRS | | now at: |

iPhone App Store for iPhone users
BlackBerry App World for BlackBerry users
Android Market for Android phone users


Mobile Info Site
Information of 30 fairs is now available at the HKTDC Mobile Info Site - hktdc.com/wap/en. Browse it and use it to get free admission badge.


hktdc.com Free Sourcing Service
Now you can locate the right products you need by getting a list of relevant exhibitors with booth numbers and product photos at the fair. Look for this friendly sign at the fairground.



Enquiry Contacts
Customer Service Line (852) 1830 668




Rebecca Tse
Manager, Marketing Communications
Exhibitions Department